What is ferro silicon magnesium used for?
Views: 1278 Update date: Aug 25,2021
Ferro Silicon Magnesium Alloys are master alloys of Magnesium with Iron and Silicon. They facilitate small additions of Magnesium to Iron, required to transform graphite flakes to spheroids.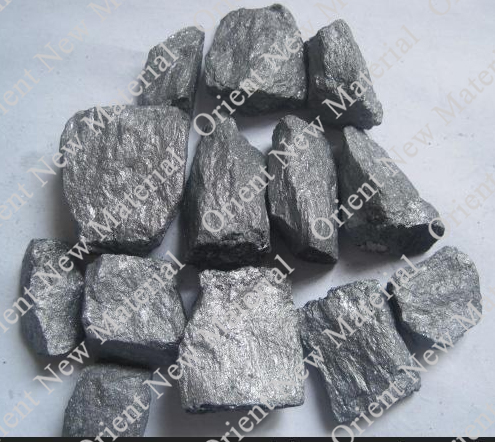 Ferro silicon magnesium, often abbreviated as FeSiMg, is an alloy primarily used in the production of nodular or ductile iron. It is added to molten iron to promote the formation of graphite nodules, which impart superior mechanical properties to the iron. Here are some key uses and benefits of ferro silicon magnesium:

Nodular Iron Production: FeSiMg is a crucial additive in the production of nodular or ductile iron, which is characterized by its enhanced ductility, toughness, and strength. The alloy contains a high percentage of magnesium (typically 4-6%) along with silicon and iron. When added to the molten iron, FeSiMg reacts with sulfur and oxygen impurities, resulting in the formation of magnesium oxide (MgO) and magnesium sulfide (MgS). These byproducts create favorable conditions for the formation of graphite nodules during solidification, preventing the formation of brittle flakes or lamellar graphite. The nodules in ductile iron improve its mechanical properties and make it more suitable for applications requiring high strength and ductility, such as automotive components, pipes, and machinery parts.

Improved Mechanical Properties: The addition of FeSiMg to iron helps control the microstructure and properties of the resulting alloy. The graphite nodules formed through the nodularization process provide ductility, reducing the brittleness associated with traditional gray iron. The nodules act as stress concentrators, preventing the propagation of cracks and enhancing the overall toughness and impact resistance of the material.

Heat and Wear Resistance: Nodular iron produced with FeSiMg exhibits good thermal conductivity and resistance to thermal fatigue. These properties make it suitable for applications involving high temperatures, such as engine components, exhaust manifolds, and industrial machinery. Additionally, nodular iron has good wear resistance, making it suitable for parts subjected to abrasion or sliding contact, like gears, camshafts, and rollers.

Machinability: Nodular iron produced with FeSiMg has improved machinability compared to other iron alloys. The graphite nodules act as internal lubricants during machining operations, reducing tool wear and improving surface finish.

Cost Efficiency: FeSiMg is a cost-effective alloy, as it provides the desired nodularization effect while using relatively smaller amounts of magnesium compared to other alloys. This contributes to its widespread use in the production of ductile iron.

Overall, ferro silicon magnesium plays a critical role in the production of nodular iron, offering superior mechanical properties, heat resistance, wear resistance, machinability, and cost efficiency.
Prev News:What are ferro alloys used for?
Next News:Where ferro silicon is used?