Basic information about ferro silicon
Views: 564 Update date: Aug 06,2021
Ferro silicon is an iron alloy composed of iron and silicon. It is the main product of ferro silicon manufacturers and can be used as a steelmaking deoxidizer, alloying agent, and modifier. Let us share some basic information about ferro silicon with you.
During the slow cooling process of liquid ferro silicon, the low-density silicon-rich part floats up, and the high-density ferro silicon sinks, causing the components of ferro silicon to segregate. In order to reduce the segregation of ferro silicon ingots, it is necessary to lower the ferro silicon casting temperature, control the thickness of the ingot, or cast in layers and accelerate the cooling rate of the ingot. Most of the impurities in ferro silicon are in the form of phosphide and arsenide, which are concentrated in the grain boundaries. When the moisture in the air penetrates into the cracks in the iron ingot, it reacts with the phosphide and arsenide gathered in the grain boundaries to generate toxic PH3 and AsH3 gases, which completely destroy the grain boundaries, and it is also the another factor causing ferro silicon powdering.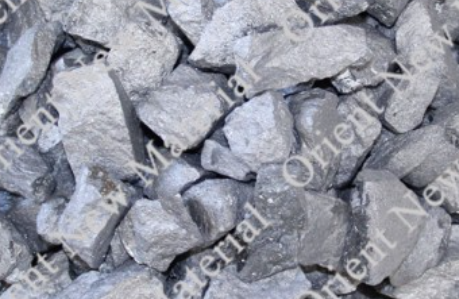 The production equipment for ferro silicon is a submerged arc reduction electric furnace. The silicon content of ferro silicon is controlled by the amount of iron raw material added. In the production of high-purity
ferro silicon
, in addition to the selection of pure silica and reducing agent, it must be refined outside the furnace to reduce impurities such as aluminum, calcium, and carbon in the alloy.
Orient New Material (Hebei) Co., Ltd - Orient New Material was invested by Orient Group in 2014. Orient New Material is based on Tianjin Port China, mainly engaged in the import-export and the domestic market about the metallurgical raw material and metallurgical products which include Ferro Alloys, Cored Wire, Refractories, Copper Mould, Rollers, Carbon & Graphite, Saw Blades, Fluorspar, Silica, Calcium Carbide, Rock Wool etc. We also deal in & import raw materials for our domestic steel industry such as: Steel Scrap, Pig Iron, Iron Ore Pellets, Direct Reduced Iron(DRI), Steel Grit, Steel Sand etc. You are welcome to contact us: jane.chang@orientnewmaterial.com
.
Prev News:What is ferro silicon used for?
Next News:How to select ferro silicon raw materials?